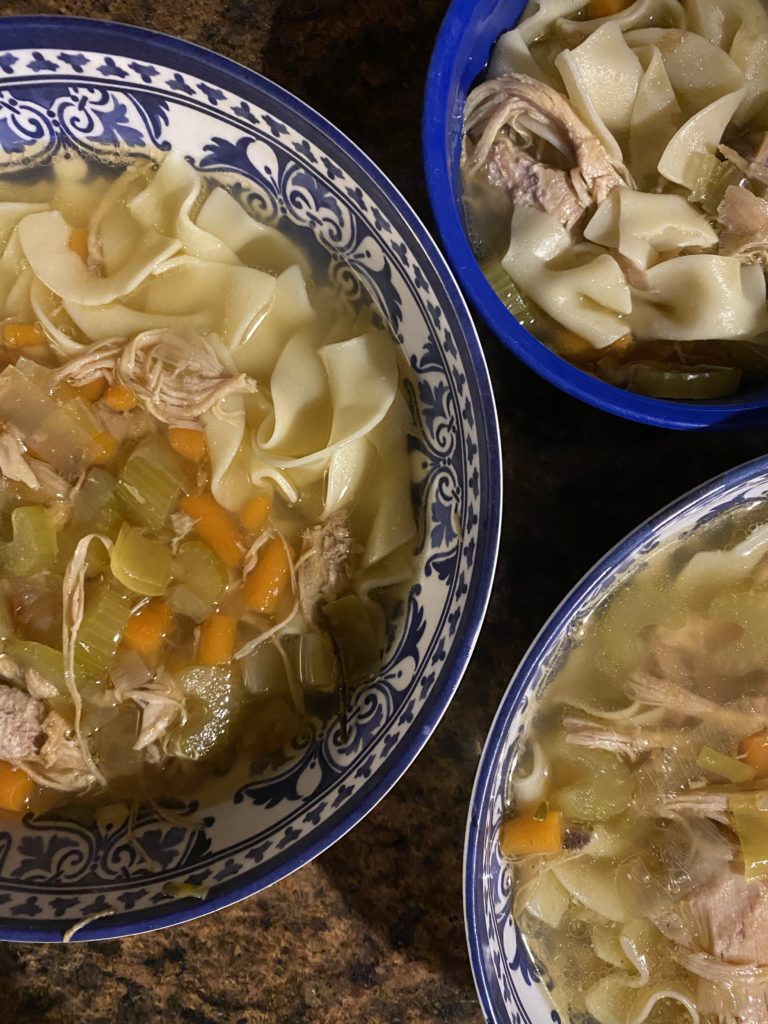 If there is one thing that we love in this house, it's homemade chicken noodle soup. Something about the aroma coming from the kitchen and the fresh bowl out of the pot that gives our family all of the feels.
While this recipe use to take me all day thanks to the amazing InstaPot I can have it done in a matter of hours including homemade stock. For this recipe you can go either way, homemade stock or store bought stock. If you'd like to make your own stock it does take about 2 hours but after that it's only about an hour left.
Homemade Stock
To make a good homemade stock you need to remember one thing, it comes from the heart. It's nothing that should ever be stressed or over calculated. With that being said this is the same approach I take every time to making it. Put in what whatever you can find! Typically I make chicken noodle soup after I have compiled a few piles of bones and veggies if I have extra. If you don't have bones hanging around that's ok too. I like to pick up rotisserie chicken at least once a month for easy dinners and those are the bones I will use later in the week. If I want soup that day I just use the entire chicken.
To make the stock here's what you do,
Put chicken bones/whole chicken/chicken thighs into InstantPot
Add carrots, celery, onion, leek, rosemary, thyme, parsley, oregano and a pinch of salt and pepper. If you like a full flavor stock I like to add 1-2 chicken bullion cubes. If you choose not to add the bullion your stock will be on the lighter side for flavor. Add water until the full line.
The longest part to cooking in the instant pot is the time it takes to reach the correct pressure and the release time when it's finished cooking. The actual cooking time typically doesn't take long.
When I am starting at scratch I prefer to use the soup setting and let the instant pot do it's thing, if I am in a rush I have cooked on high for 30 minutes and it's given me the same flavor. I personally like to think that the longer it's cooking the more nutrients are being added and after all that is the best part about homemade chicken noodle soup.
Once You've added all of your ingredients close the lid make sure that is sealed and select soup. Start to finish it should take about 1 1/2 to 2 hours and that includes your release time. After the pot has released all of its pressure remove the inner pot and pour into a strainer that is placed in a bowl to capture the juice. If you used a whole chicken this is when I will take off the larger chunks of the breast and set into another bowl to use for the actual soup. Strain the broth from the vegetables and bones then add the broth back to the pot.
Hearty Chicken Noodle Soup
If you start with homemade broth then all you will need to do is add your fresh chopped veggies, herbs and shredded chicken to the pot. If you are using boxed broth add your ingredients first and top with broth. Cook on high pressure for 25 minutes. Make sure to seal the lid and let it cook! You can either fast release the pressure or let it do it's thing if you are not hungry right away. Add you noddles as you go to each bowl and enjoy!
For some more recipes check out what my friends made!

30 minutes or less blogger blog round up blog train Butterfly party christmas cooking craft crafting cricut dessert DIY Dollar tree fall family family fun family time family vaction florida freebie free printable gift gift guide gifts grandmas cooking Halloween home decor homemade keto Kids Crafts lifestyle low carb motherhood Orlando printables project quarantine recipes school spring staycation summer teacher gifts valentines yarn