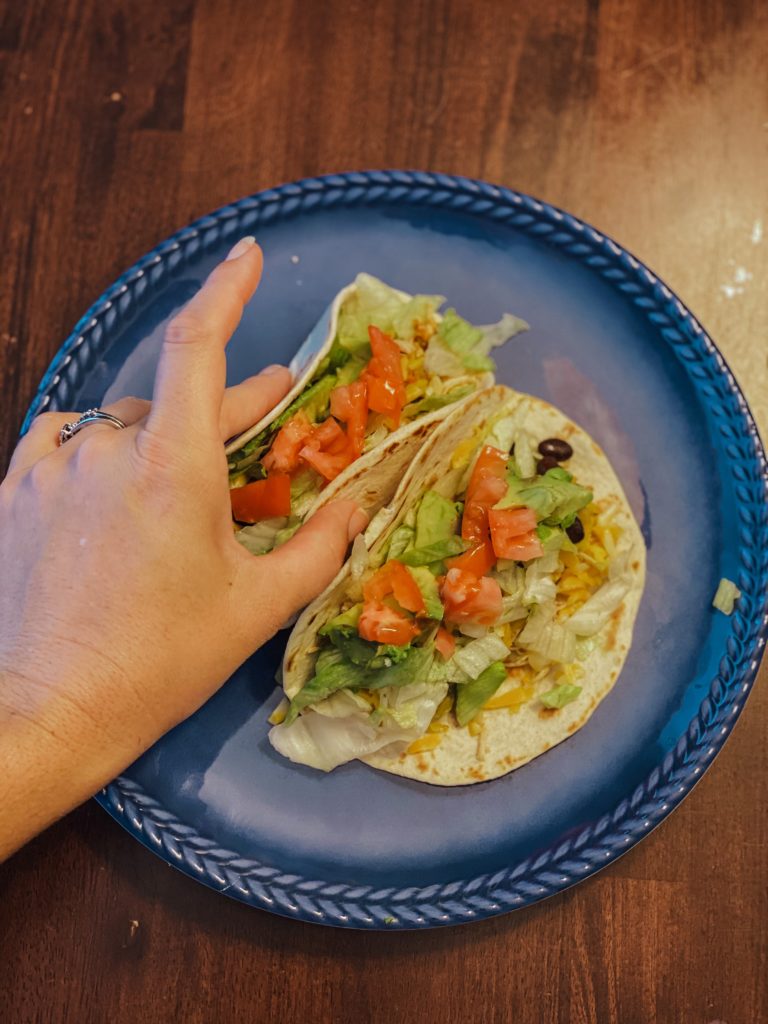 So it's Taco Tuesday you get home and realize you forgot to thaw the chicken. Most of the time people will go into a frenzy and thaw out their chicken with their preferred method and hope for the best, unless! you have a pressure cooker! This past Christmas I was given the world famous Instant Pot and OMG! It took be about a month before I got the nerve up to actually use it but now I honestly don't know where my life would be without it. It can cook just about anything and it savors every season while keeping the meats juice, cakes moist and veggies plump. That's why I knew I needed to find a quick and easy taco mix.
Here's what you'll need-
Chicken Taco Meat
1Lb of frozen chicken breast (3-4 chicken breast depending on the size)
1 Taco seasoning packet *See note
Rotel Original ( Diced Tomatoes & Green Chilies)
1 Cup of chicken broth or water
Taco Fillers (All Optional)
Taco Shell/ hard or soft
Black Beans
Shredded Lettuce
Tomatoes
Guacamole
Sour Cream
Yellow Rice
How To Cook The Chicken-
Pour one cup of liquid of choice into the bottom of the instant pot
Add one packet of taco season and mix with liquid, * 1 full packet does make the seasoning strong. I know that some like to use only half.
Place 3-4 frozen chicken breast on rack
Pour the can of Rotel over the chicken
Close your instant pot lid and set to sealing position
Set to 20 minutes High pressure cook
It will take 10-15 minutes for the pressure to build up
Once the chicken is done allow it to natural release for 5 minutes and then do a quick release. I use a kitchen towel over the vent to help keep the steam contained.
Shredded meat and serve!
While the chicken is cooking do this!
I like to make my tacos and quick and easy go to so heres what I like to have on hand and how I cook them.
Yellow Spanish Rice, As soon as I get the chicken in I always start my rice. It usually takes about 30ish minutes so make sure you start with the rice after the chicken.
Canned Black Beans, heat them in a pan when the chicken is about 15 minutes until done on medium heat
Tomatoes, Lettuce, Cheese- when the chicken as about 10 minutes left I like to prep my toppings so that they are freshly cut for the tacos.
Once you shred your chicken you will want to start on your shells. We use soft shell's so there is no preheating for the oven, if you use hard tacos be sure to read the box for instructions. For soft tacos its pretty simple and I always leave this for last so they are warm for when we go to eat. Heat your skillet to medium heat, once warm (a splash of water with sizzle away immediately when hot) heat each side for 15-30 seconds and serve
I hope these tips make your taco night effortless and delicious!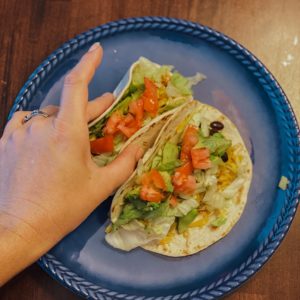 Instant Pot Chicken Tacos
Ingredients
1

cup

chicken broth

water can also be used

1

packet

taco seasoning

use half if you dont like a strong flavor

1

can

Rotel

2

lbs

frozen chicken breast
Instructions
Mix the chicken broth and seasoning in instant pot

place rack in pot and put chick on top, its ok if it overlaps

seal the lid and pressure cook on HIGH for 30 minutes

once down allow to natural release for 5 mintes followed by a quick release
Instant Pot Chicken Tacos