When I craft, I love to find a good fast craft. And if I'm being honest it's because by the time I get to actually craft it's been 2 hours from the time I wanted to start lol. So I think ill try to blog more of quick and easy crafts so make sure to subscribe so you don't miss a thing.
Materials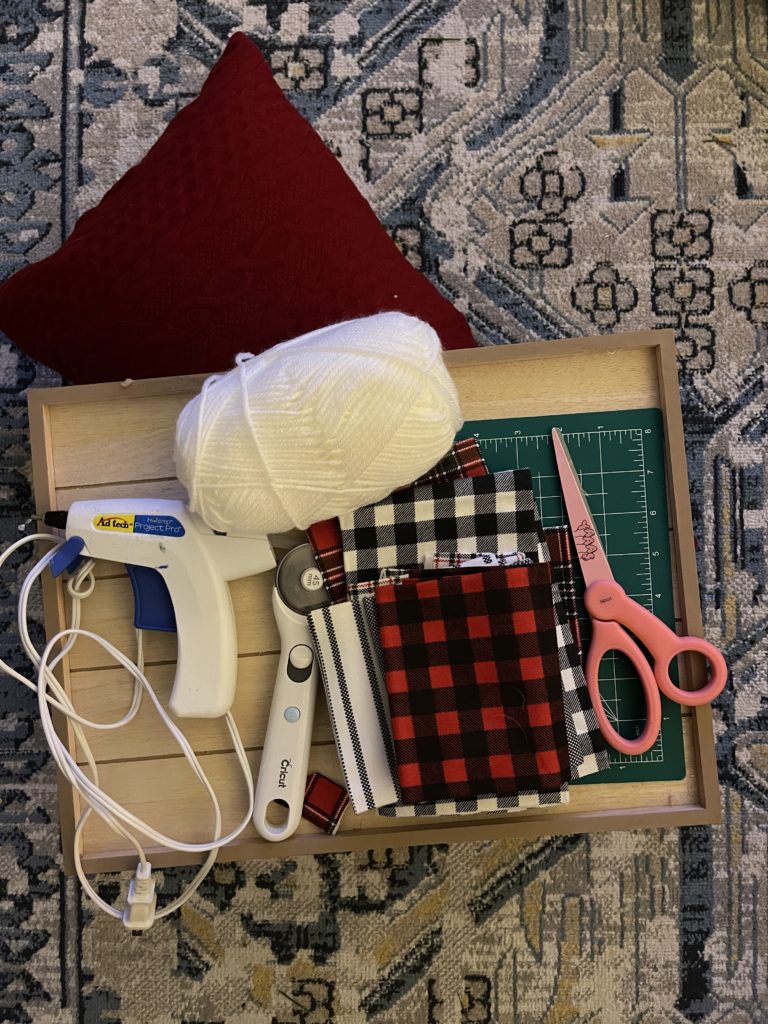 Fabric scissors or I love to you my Cricut rotary cutter with mat ($20-$50)
Hot glue gun ($5)
White yarn ($1)
Mixed fabric bundle from Walmart ($8)
The yarn and cutting mat are from Dollar Tree. These particular scissors are Yoobi at target, the Cricut rotary cutter is absolutely amazing and the hot glue gun can be from everywhere. My dollar tree actually had some the other day! I should also mention this amazing tray is from the most recent Bullseye for Target Christmas 2021.
How to make it
Start by unfolding the fabric, see below.
When I use the rotary cutter I simply cut against a plastic ruler to keep a straight line and cut between 1-1 ½ inches each. The key to cutting is to not over worry. For this project you don't need it to be perfect, in fact when it has flaws it gives it a personal touch.
Once you have all of your strips you are ready to go! I cut 6 or 7 of each cut for my 7 foot window to give ground an idea for size.
Next you need to plug in your hot glue gun and start opening you fabric completely. When it's hot glue each fabric in half to make 6ish inch strips.
From this point all you have left is to tie them on the yarn and hang it up!
I full intend on making one of these for each holiday. They give that extra touch without to much.