DIY Sight Word Kids Game
It's a blog train! Make sure check out the other fun DIY kids crafts at the end of my blog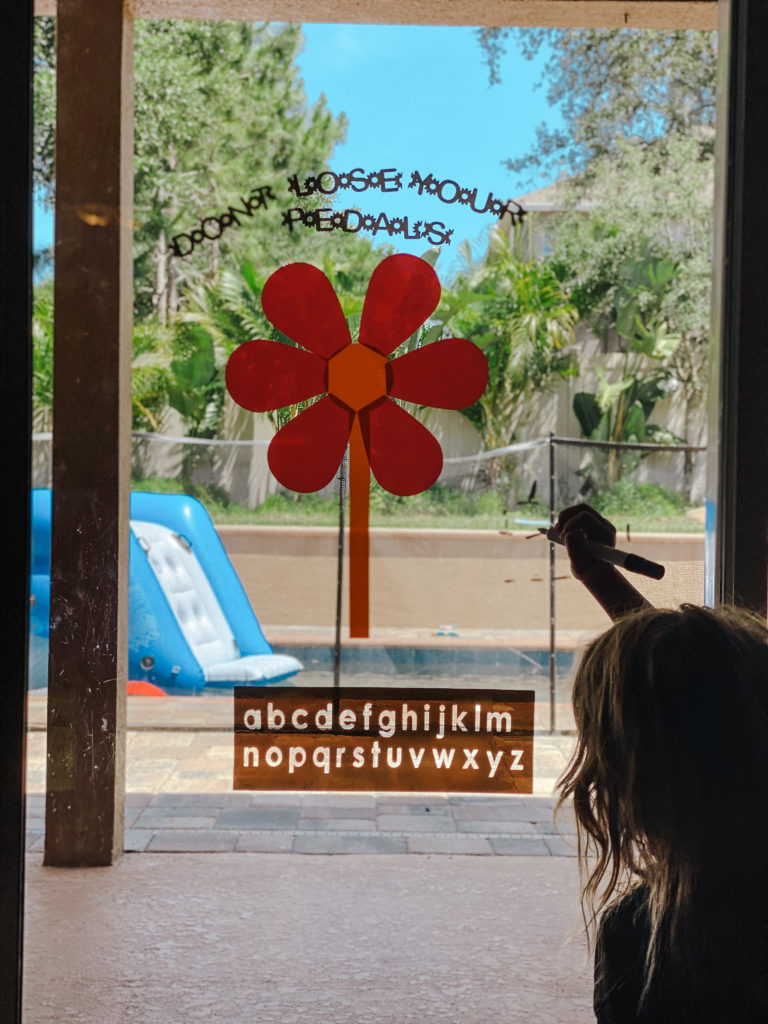 I don't know what it is but every time I think
of the game hangman I immediately am brought back to my childhood and am sitting in a restaurant booth playing this silly game and I am trying so hard not to get "hung" by misspelling whatever word or sentence my mom has plotted against me. Little did I know that the real purpose of the game was to get my ticker moving and work on my spelling at the same time. I have to say, she sure was a clever one and so was whoever came up with the idea of it in the first place. After all I'm pretty sure that's where the idea of Wheel of Fortune came from.
While I love that I can look back and cherish those memories I'll be honest, we're not the restaurant dine in kinda family. Of course we go out to eat. But it's not a regular thing like it was for me growing up. So my kids don't have the opportunity to play like I did. Anddddd when playing at home it's just not the same as flipping over that kids menu and making it your own. It's also not the same as seeing it up on the whiteboard sitting in class racing against your classmates to finish first. But I love the core idea of this game. That's why I came up with the idea of "Don't lose your petals!". It's a fun spelling/sight word game that you can play with your kids without having to display the poor sole who was hung due to unfortunate luck lol. The rules go just as fit you were playing hangman but instead of adding body parts you take away flower parts.
This fun and simple game is great for kids of all ages and can be used over and over!
Here's what you need:
Cricut machine, I'll be using my Joy for fast and easy printing.
Pre-cut Cricut Window Clings Vinyl, I use this paper trimmer
Cricut Design Studio File: Don't Loose Your Pedals Hangman Game
Open window or sliding glass door
Imagination
Word bank (optional for younger kids)
How to:
(Per Cricut Joy Prompts)
Turn on your Joy and open the "Don't Loose Your Pedals Hangman Game" design file in your Design Space
Load your precut window cling vinyl to the StandardGrip Mat and Select "Make it".
Select "On Mat"
Select Load tools and material and continue with the prompts until project is complete.
You will have 5 sheets to cut. Between loading be sure to check the mat for any debris. Clean as needed.
That's it! You'll want to grab an expo marking and let the words flow. If you are working with younger kids it would be a good idea to make a word bank. To do so you'll do it like this,
Add a rectangle to your canvas.
Select all caps – it's best to start with caps for letter recognition
Add 5-10 words per rectangle and only bring one out at a time. Feel free to let me know if you need help designing it and I can make it for you.
I hope you enjoyed todays DIY kids craft! Today's blog is part of a fantastic blog train. Make sure you check out these ladies fun craft for some more ideas!
Thank you so much for reading! If you'd like to see some more activities head to these blogs to see what there shared