Spring has officially sprung and down here in Florida, the crops are beginning to harvest at the peak of their season. One of our favorite fruits is the sweet taste of a freshly picked blueberry. Typical we'd head down to our local blueberry farm to enjoy the afternoon with others while the kids pick the fruit on their "U-Pick" farm and spend the afternoon with their other festival activities. But, with the stay at home order in place we decided to stick with our Shipt order this time around. Thankfully we were still able to get everything we needed for this easy keto blueberry cheesecake bites recipe. 
Here's what you need: 
Blueberries

 

Cream cheese
Kakato Natural Prebiotic (or other keto sweetener substitute)

 

Eggs

 

Vanilla Extract

 
One of the fantastic this about this recipe is that it's little to no effort and takes less then 45 minutes from start to finish with your prep and cook time. 
When you are ready to make your bites you will want to start by taking the cream cheese out about an hour before you plan to make your bites to allow enough time for the cheese to soften. If you forget to take it out I always stick the box to the back of the stove top where it tends to warm up while the oven is on. I don't know if this is just my stove but it's worked wonders for me needing to soften butters and cheeses in a jiffy. Typical after about 10 minutes whatever I need to ready to go. 
If you set your cheese out prior to mixing you will be ready to go and should begin with setting your oven to 350 while you prepare the mix. Start with your cream cheese and beat with a hand mixer for at least  2-3 minutes or until your cheese has a smooth consistency. Add your sweetener, eggs and vanilla extract and beat for an additional 2-3 minutes. Be sure that everything is mixed before adding the blueberries. 
Add your sweetener, eggs and vanilla extract and beat for an additional 2-3 minutes. Be sure that everything is mixed before adding the blueberries. 
Next you will want to add your blueberries to the mix and fold in until completely covered. If you are a big fan if blueberries feel free to double the amount. If you don't like blueberries you can substitute with any other berry fruit. Raspberry and blackberries are a great option for keto friendly. Strawberries tend to have more sugar so if you plan to use those I wouldn't suggest doubling the amount. 
Once you have your mix ready, fill the pre-paper lined mini muffin pan ¾'s of the way. I like to have the fruit layered on the muffin so I saved the other 1/2 if of cup and added to muffins here and there to get that extra boost. Depending on your muffin pan size you may have to bake into two batches. 
Place your muffins in the oven and bake for 18-20 minutes or until they start to get the golden crisp. Let them cool for at least 5 minutes. Keep refrigerated up to one week or freeze up to 8 weeks. 
With this easy to do keto mini cheesecake you can have the sweets without the hassle. Make sure you check out my Instagram Keto highlights for more delicious ideas.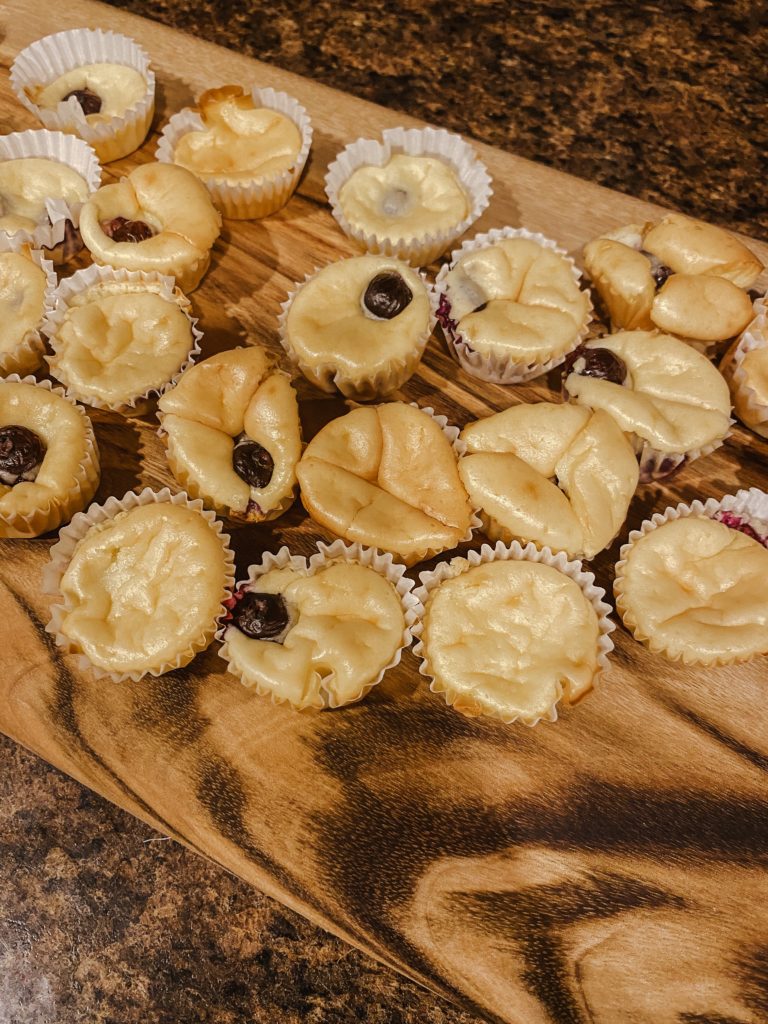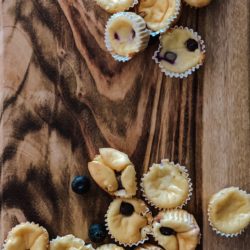 Keto Blueberry Cheesecake Bites
Ingredients
1/2

cup

Blueberries

2 16

oz

Creamcheeses Soften

1/2

cup

Kakato Natural Prebiotic (or other keto sweetener subsitute)

2

Eggs

1/4

tsp

Vanilla Extract
Instructions
Line mini muffin pan with paper liners

Cream softened creamcheese with a handheld mixer until a smooth

Add your vanilla, sweetener and eggs, mix

Fold in your blueberries and pour into muffin pan

Bake for 18-20 minutes or until tops start to become golden