'Tis the season for giving and receiving. A time where we can show loved ones just how special they are to us. But lets be honest, picking the perfect gift can be hard! Well, you are in luck and have found the perfect men's gift guide. Jason and I have been together just shy of 13 years so I've ended up at the 24 hours Walgreens more than I like to admit lol. But in all fairness his birthday is the day after Christmas so things just get crazy around the holiday for us. Thankful I have a few years behind me to present you with the perfect Men's Gift Guide.
The Guide
The List
The Performance Package
This hands down is my favorite gift this year! It's fun, it's manly and it's perfect gift for his family jewels! Say Hello to The Performance Package from Manscaped. It is full equipped with everything your man needs. You have the fan favorite, The Lawn Mower 3.0 perfectly designed to keep those balls nick-free that can be used in and out of the shower for mowing down. The Preserver, because every man needs a Ball Deodorant. Then you have The Reviver, this is a Ball Toner that is perfect for sensitive areas that feature a smoothing aloe and witch hazel extracts. Just when you think this package is perfect it is also pack with The Weed Whacker for those ear and nose hairs, the Magic Mat for keeping the cleaning up easy and to top it off a free Shed travel bag AND anti-chafing boxers!
SHOP MANSCAPED – THE PERFORMANCE PACKAGE (Use this link to save 20% off your order! Automatic applied in cart)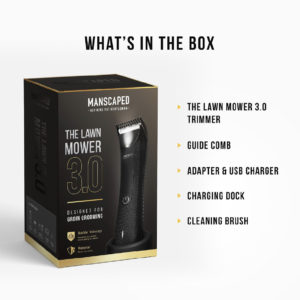 The Chop Cleaner
It's a perfect pair, The Chop Cleaner. This Hair & Body Wash is the perfect add-on to your Manscape gift box to give your man the ultimate man spa. After your man has given himself a manscape head can enjoy this fresh and reinvigorating body wash that's perfect for post-treatment!
SHOP MANSCAPE- THE CHOP CLEANER (Use this link to save 20% off your order! Automatic applied in cart)
Poo-Pourri Master CRAPSMAN
Poo-Pourri, he is King of the Throne after all. Jokes aside I really like this one. 13 years later and Jason will still try to leave the bathroom smelling fresh so the least we can do is help them out. There's nothing better than a controlled environment when you never know just how big the beast can be.
Apple AirPods Pro
This is one of my favorites and here's why, if you have an Apple phone and products they work so seamlessly it's amazing. We've had other brands and nothing has compared. This year Apple introduced their new model AirPods Pro and I have to say I can't wait to get a pair of my own! They fix better, they are more comfortable and more importantly they sound great!
Coach Men's Wallet
The Classic. You can never go wrong with a nice wallet. For us I typically will get Jason one every other year and because he doesn't carry cash often this is the perfect style for him.
Melin Hydro Hat
This is a cool one. This is the Melin Hydro Series Hat and its a pretty neat hat. It can float, its water resistant, sweat proof and its breathable. So rather you're out in the pool, ocean, sporting game or around the house its perfect for all occasions.
Orlando Magic Sweatshirt
This is an obvious one- Fan Gear. This is a two parter because you can do either or, or both. It really depends on how much sports matter in your house. For us we love it all, so every year I try to get something from one of the sports team and from there I will change it year to year. This year I went with the Orlando Magic simply because they are changing a lot right now and I wanted to remember this era in their fashion style.
Orlando Magic Socks
Everyone's wish – Socks, you may think this is funny but to tell you a secret, most men like them. Plus they make great stocking stuffers!
---
It's a Blog Train!
While I'm sure you found all of your needs for the man in your life make sure to head over to these gals pages to see their top items on their Gift Guides this holiday season.
Sarah: Blog // Instagram Nastaran Blog // Instagram Pamela Blog // Instagram Kimmy Blog // Instagram Nicole Blog // Instagram Taylor Blog // Instagram Stephanie Blog // Instagram Christine Blog // Instagram Sylvia Blog // Instagram Danielle Blog // Instagram
---
30 minutes or less blogger blog round up blog train Butterfly party christmas cooking craft crafting cricut dessert DIY Dollar tree fall family family fun family time family vaction florida freebie free printable gift gift guide gifts grandmas cooking Halloween home decor homemade keto Kids Crafts lifestyle low carb motherhood Orlando printables project quarantine recipes school spring staycation summer teacher gifts valentines yarn