When you want to get out but not travel to far.
Summer is here and for us a staycation is a must. With being cooped up so much it was getting obvious that the kids needed to get out. What's better than living in Central Florida? Taking staycations in Central Florida! So that's just what we did!
Welcome to Lake Buena Vista Resort Village & Spa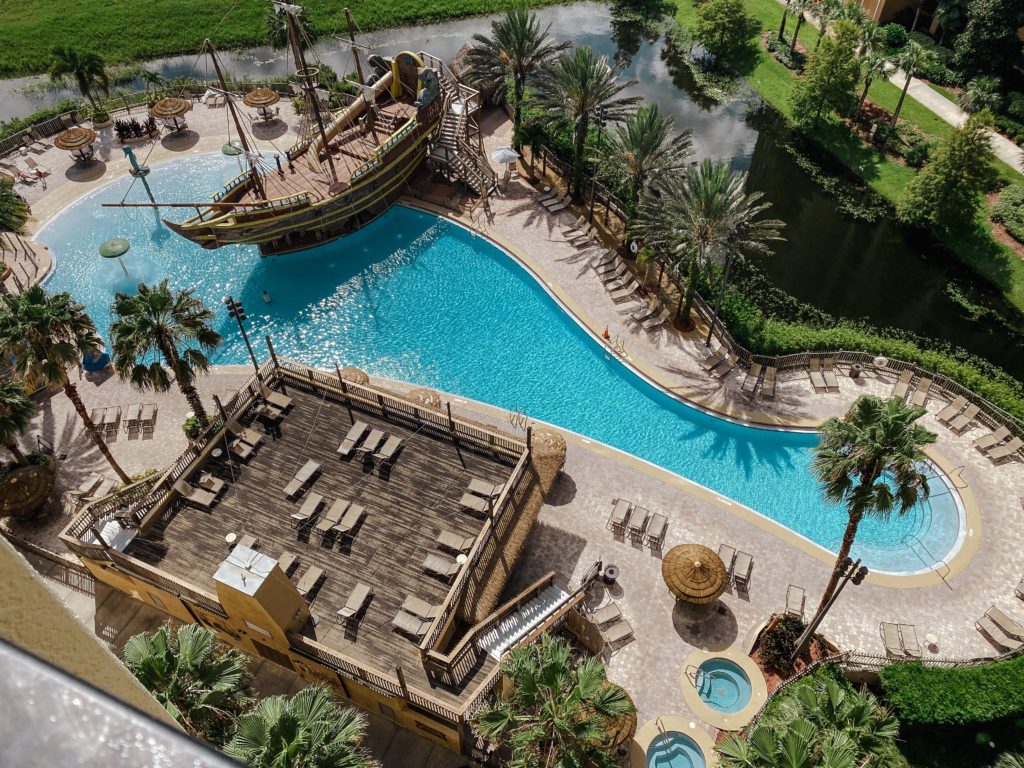 I know what you're thinking, AMAZING. And you're right, this property is everything you are looking for and more. From the amenities outside to the one inside it has everything your family is looking for and more! First things first, choosing the right room. When you're on a Family staycation, I don't know about you but I want to just that- stay. While I love to get out an explore a staycation is more less a way to escape from our typical surroundings and still have a good time. Having a larger family can sometimes mean squishing into a small room. This was not the case! We went with their 2 Bedroom Suite. The rooms were spacey, it had a full kitchen and washer & dryer.
2 Bedroom Suite
Each room had a closet and dresser, the couch was a pull out couch and the kitchen was fully equipped with kitchen tools, pots and pans and such. This easily has to be the most spacious room yet with an amazing set up. If you are traveling from out of the state all you need is a quick trip to the local supermarket and you are all set!
If you don't have time to run to the supermarket that's ok too. In their front building their is smaller market store next to their arcade and available restaurants.
One reason I rank the Lake Buena Vista Resort Village & Spa best hotels in Orlando is being of these next amenities. So let's explore!
Pirate Pool
This pool has it all. It has a restaurant with a full bar. Kiddy splash area and a fun slide for all the kids! On the outer pool deck there are hammocks for the perfect getaway vibe.
The views at night were amazing too. This was definitely a pool you can spend all day at.
A little RnR
This is my favorite part of the entire hotel. The Spa. It is in its own oasis. You enter from the main lobby via elevator and when the doors open you immediately feel as if you are in another world. It's calming and relaxing. It's beautiful and elegant. I've been to many spas and this as to be one of my favorite.
As you're greeted by a friendly smile you know that you are in for a treat. Once you have the proper paperwork filled out you are shown to either the men's or women's dressing room where you get a private locker, fresh robe and slippers.
I opted for a massage because this mama needed it and it was everything I was hoping for and more. When I was done they greeted me with my choice of beverage, which obviously was a mimosa. After that I had a snack, enjoyed the sauna and went in my way. It was one of the most peaceful and relaxing days I had had in a long time.
So when you book your next family vacation remember to add a little something for yourself. Just to get you even more excited, here's a few pictures of their amazing spa.
Here's what you need to know…
The property is amazing and has everything you need. From the hotel room, family fun, self care and food. They have you covered
You are within walking distance to Lake Buena Vista Factory Stores
10 minute drive to Walt Disney World
20 minute drive to Idrive
15 minute drive to Orange Country Convention center
So rather your planning a staycation, Disney vacation or work trip Lake Bea is the hotel to stay at!
30 minutes or less blogger blog round up blog train Butterfly party christmas cooking craft crafting cricut dessert DIY Dollar tree fall family family fun family time family vaction florida freebie free printable gift gift guide gifts grandmas cooking Halloween home decor homemade keto Kids Crafts lifestyle low carb motherhood Orlando printables project quarantine recipes school spring staycation summer teacher gifts valentines yarn