The Best Waterpark in Sevierville TN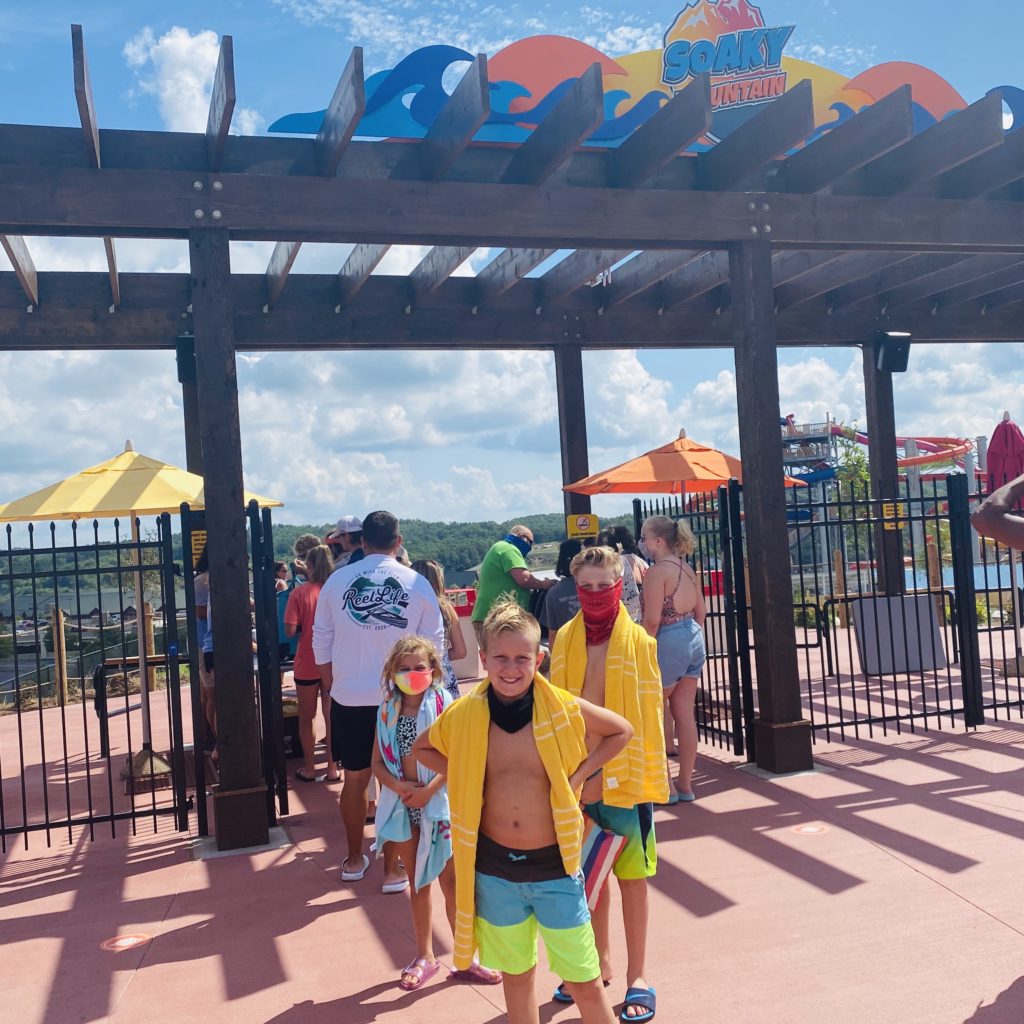 We recently went on a family vacation to the Great Smoky Mountains area and to be honest I have no idea there were so many fun things to do around there! We stayed in a local town, Sevierville TN (home to Soaky Mountain Waterpark) and I don't think we could have picked a better area. It had everything we needed and was within driving distance of the mountains for any exploring we wanted to do.
One of our favorite places we went was Soaky Mountain Waterpark. Being from Florida I've been to my fair share of waterparks and I'm here to tell you NOTHING compares! They had an area that was perfect for everyone in the family and the lines were never to much so that you felt like you were spending your day just waiting in line.
Let's Explore!
When you first walk into the waterpark you can see almost everything from above. The elevation is pretty cool. At one point we must have been in the mountain from the way it was built.
Something that you must know is this:
Wear water shoes! This is mostly important because when you're walking from one end of the Waterpark to the other the ground can get home
Bring towels! You can buy some from their gift shop, but we had already picked some up from the local Walmart
Rent a locker! I thought this was neat, the lockers were all electric so you didn't have to worry about a key like older places.
Get there refillable cup! It's well worth the price when you have a larger drink
Food is affordable compared to some of the attractions near by.
Back to our awesome tour….
So when you first get in the waterpark you'll notice they have maps all over to help you get where you want. We started with the area made for the littles- Boomer Bay, here we found some rides that all the kids loved, and most importantly and area that Kadie could move around and access herself!
There were a few others that I didn't capture. But to say this area is awesome just doesn't seem like enough.
The Hive
Our other favorite area was The Hive. This area was COOL. It has slides that everyone loved. Kadie even went down Some with Jason and I. By far the best family fun we found!
For The Bigs
The other rides were for the older kids. However, some of them would allow 42" while older had to be taller. For the most part Emily was able to go on all of them so she had a blast. Here is a list of family rides:
SOAKY SURGE
RAINBOW REVENGE
COPPEEHEAD CLASH
COTTONMOUTH COILS
TIMBER RATTLER'S RAGE
AMERICAN RACER'S RUSH
BLACK BEAR RAPIDS
SLIPPERY SALAMANDERS
COYOTE SPRINGS
After we went to all the family areas we took turns with the kids going down the bigger rides. I think we each got to ride at least 15 times different rides. Much better than the crowded Disney theme park we are use to.
There was one ride that we all absolutely loved, the Avalunch Watercoaster. The best way I can describe it is a water mountain roller coaster. The kids made me take them on it 2 time each and I'll tell you what, I didn't mind a bit! If I can the chance I'd do it everyday!
I wish I could have gotten pictures of everything but it's impossible to take your phone with you when your having good ole fashion family fun. So, to see the rest you'll need to head up there and visit Soaky Mountain Waterpark for yourself! When you do go let me know what you think. I promise you will not be disappointed.
Looking for othe ideas in the area? Check these out-
Mountain Top Air BnB
The Mill in Sevierville TN
Ripley's Believe It Or Not of the Smokey's
Headed to Orlando? Check out one of our favorite location staycations!