On Monday night at 630PM we got the call. The call that all of the parents are dreading this 2020/2021 school year. "We're sorry to tell you, but Emily has been in close contact with someone that has tested positive for corona virus and unfortunately she has to self quarantine for the next 14 days. While it sounds great to be home from school- it's not lol. But thats for another day and another blog. Today is all about how I took the magical party she should have had at school and brought it to our home over night.
SO what does a mom do with two kids at home during the day and a farm house at night, she sneaks away to walmart and crafts her way through!
One thing I wish I would have had time for was to craft more. But thanks to a good friend I was able to add some final touches that made it personal and despite the grinches heart being to small our morning was filled with largest hearts of them all!
DIY Decor, Plates & Garland
These have to be one of my all time favorite crafts. Every step of the way felt magical and they came out perfect. They also were done in no time!
For the garland,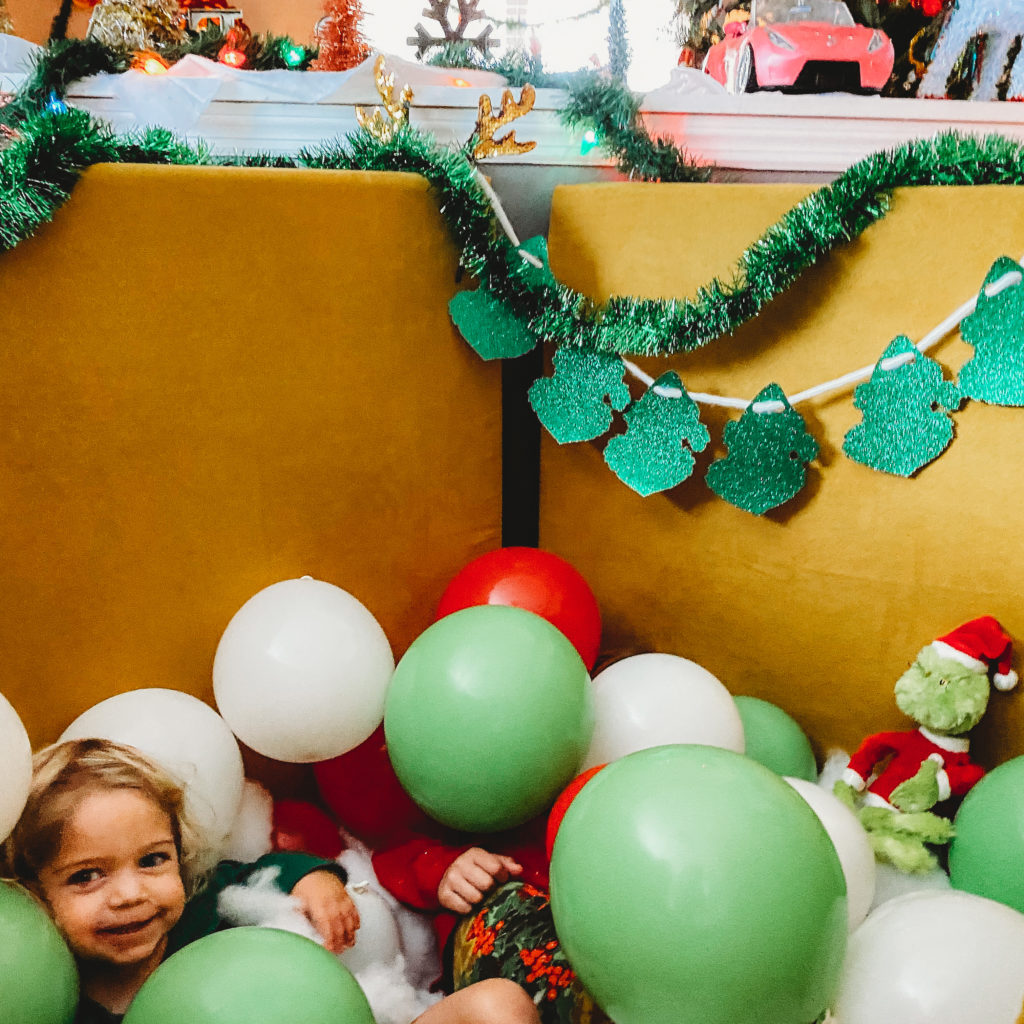 You will need this Cricut project link , Cricut machine, glitter card stock and yarn to thread.
Follow the prompts in your Cricut design studio and once printed thread the yarn! I did choose a larger yarn so my whole are bigger. I did not add the holes to yours so that you can adjust to what material you will be using.
For the plates,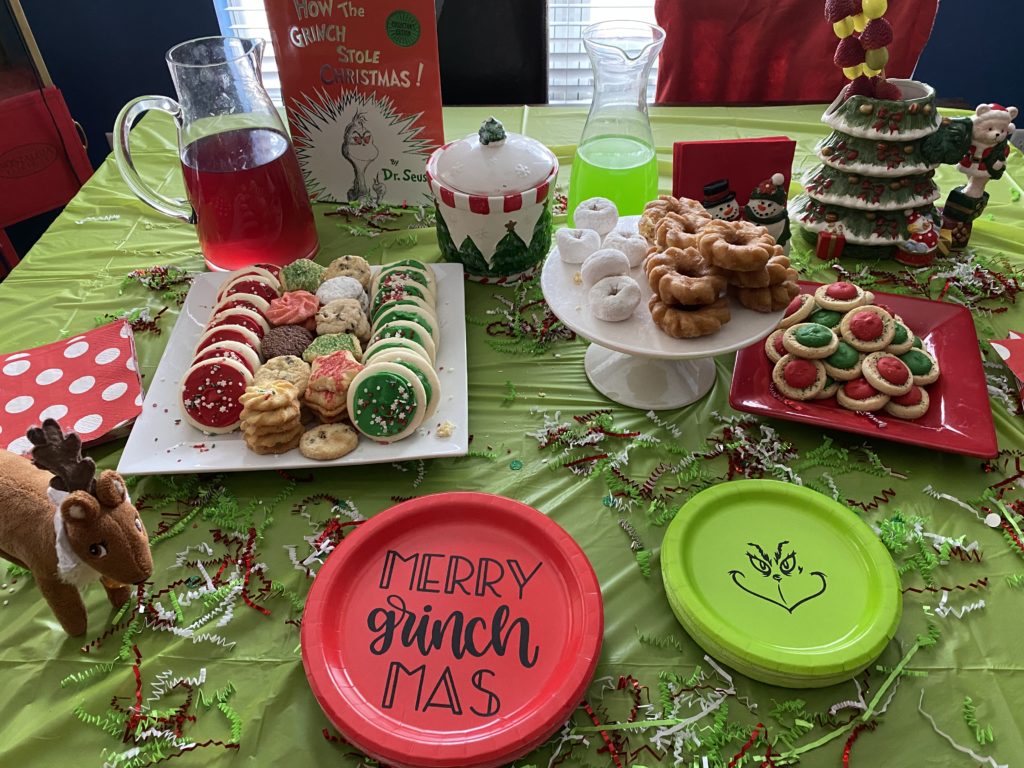 You will need this Cricut project link, Cricut machine , small lime green plates and transfer tape. I got my plates from walmart and only opted to decorate 10. If I had more time I would have done the set but this was all done after 11pm when the kids were fast asleep.
Grinchmas breakfast,
Because her school party was going to be filled with goodies I figured why not bring those sweet treats to the house. I also knew that there was no way she would eat just these (and I was right, she opted for cereal) so I made sure to have a spread that would be good for the family throughout the day. Here is what I picked up at walmart:
All of the red and green cookies I could find.
Two different donuts, the powdered sugar always seem to make breakfast more magical so that was obviously on the list.
Strawberry and grapes on a skewer
Kool-aid green apple punch and Arizona fruit punch
Together everything came out great.
Playtime,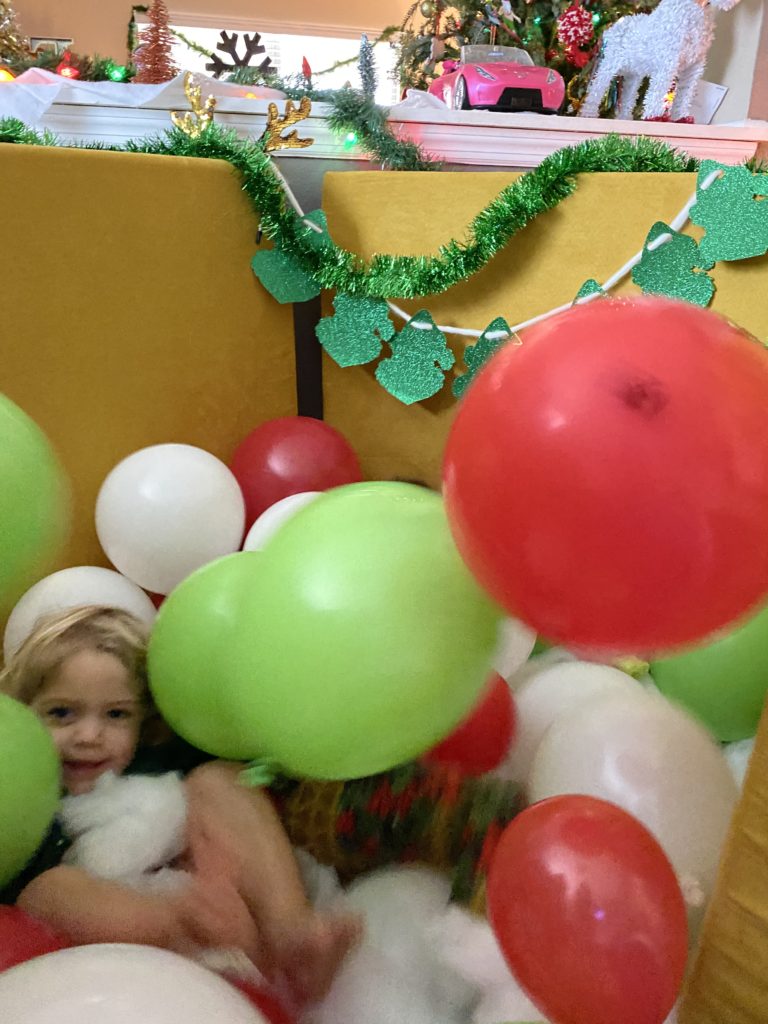 This was my favorite part. I found some fake snow at walmart for $5 and 3 packs of balloons at a $1 each to make this the best Florida snow pit ever! I simply pushed my nugget together, made our Wiwiurka Double Rocker Board a slide in and as soon as the girls saw it they slid right in. I will say its a little messy lol, but if its not a mess did you even really have fun?
The elves,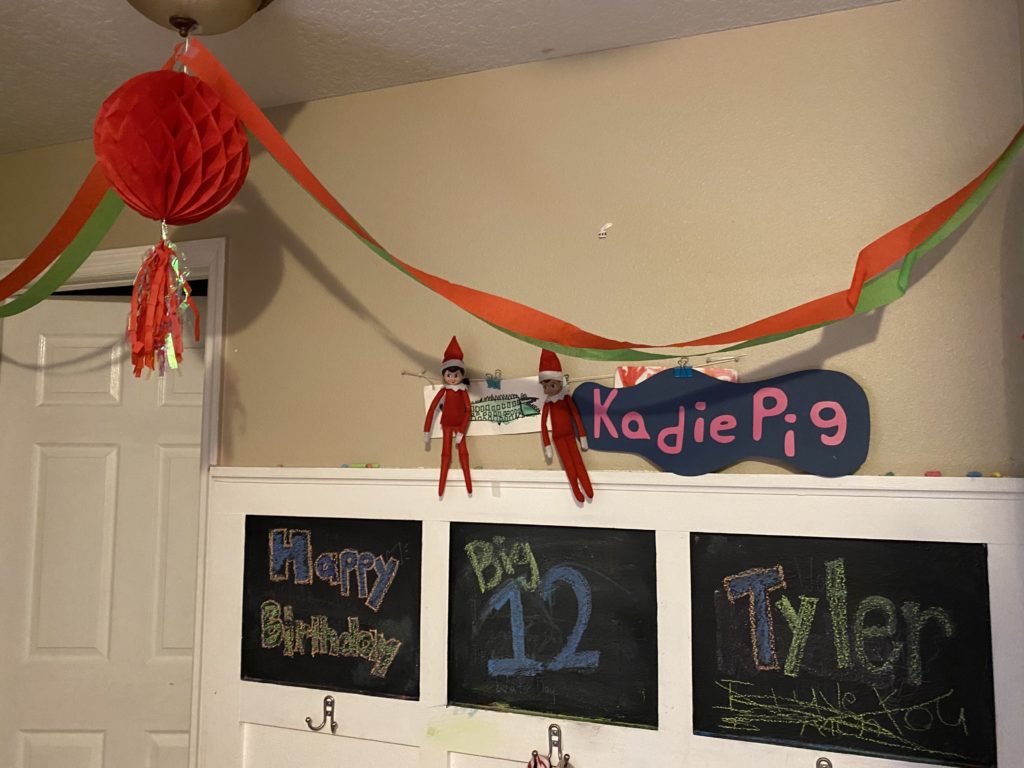 We are a Elf on the Shelf house. We have Buddy-the OG, bubbles and cuddles our reindeer. So because I think its more magical for them to believe I give all the credit to them. There are so many other times I have to shine that it just seems fitting to fill the Christmas spirit. This was pretty easy to do and I love that they added bells to the doors this year. It's a great way to hear if someone is sneaking out.
And thats it for our Merry Grinchmas at home party!
---
It's a blog train!
Have you done any fun DIYs this holiday season? See what my friends and I created to add some extra holiday cheer around our homes.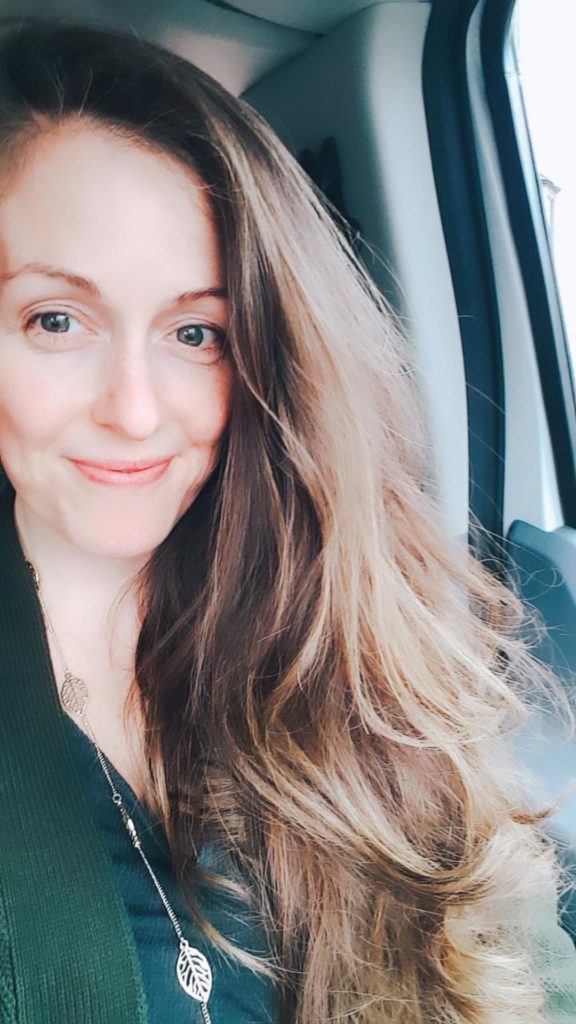 30 minutes or less blogger blog round up blog train Butterfly party christmas cooking craft crafting cricut dessert DIY Dollar tree fall family family fun family time family vaction florida freebie free printable gift gift guide gifts grandmas cooking Halloween home decor homemade keto Kids Crafts lifestyle low carb motherhood Orlando printables project quarantine recipes school spring staycation summer teacher gifts valentines yarn