School is out and the kids are at home. This time of the year in our house is full of baking, crafts and laughs. I am especially enjoying 2020 because Emily (6) is really into crafting with me! The other day I was thinking about something fun we could do when I remembered that I we had gathered pinecones the last trip to the park. That's when I decided it was time for a little diy pinecone decor!
How to,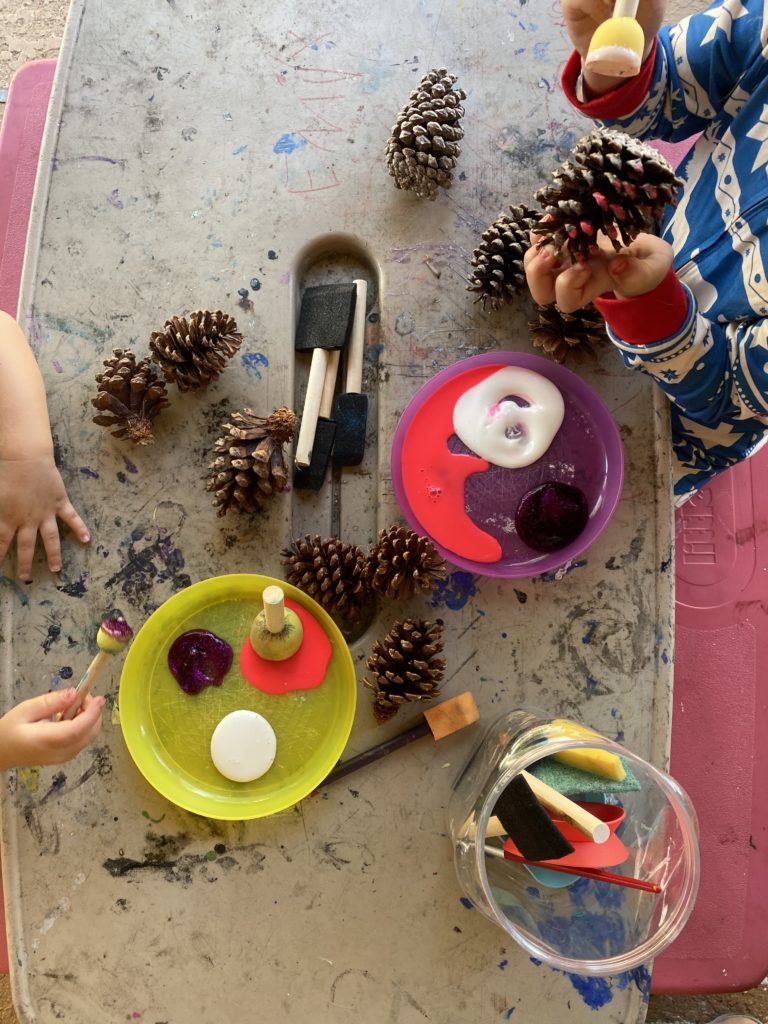 While you could go in many directions with pinecone decor I wanted to make sure it was something the kids enjoyed and would keep them busy for a little bit. I figured painting, gluing and stringing would make it a full project and that it was.
Painting 
Painting is fun no matter what the object is, it's the tools that you use that can make it different from one project to the next. For this project sponge brushes were by far our favorite. Not only was it fun for the kids but it was the best way to cover the pinecone sides. We even rolled a few for a beautiful mix. Once you let the paint dry you are ready for the next step, the poms!
PomPoms 
This was my favorite part. I love the pop of color and texture making each pinecone one of its own. We used a hot glue but I a positive that regular glue would work as well, you just have a longer wait to string it.
Optional Garland 
For this step its all up to you. I personal love homemade garland but these pinecones would be perfect placed in the tree on their own, in a bowl or up on a mantel. If you do choose to make a garland I recommend tying them to the garland string. We used pipe cleaners that were cut in have and twisted to around where we wanted them but you can always use more string or try to wrap them. I tried the last one but a few fell off.
That's it!
---
It's a blog train!
Some crafty GalPals and I are sharing some kid friendly winter themed crafts on Instagram and on some of our blogs! See what they are sharing to get some ideas for your little ones…
Danielle
HTTPS://www.instagram.com/mamallama.llama/
HTTPS://mamallamallama.com
Stephanie
Https://www.instagram.com/Stylesimpler
Https://www.Stylesimpler.com
Lynsey
HTTPS://www.instagram.com/realmomtribe
https://realmomemails.wixsite.com/website
Nicole
Https://www.instagram.com/ourrobinsnest
Https://www.ourrobinsnest.com
Rachel
Https://www.instagram.com/beautywithbond
Want to join the fun? Tag @galpals_bloggerbabes and use the hashtag #galpalsbloggerbabes to be featured in today's train!