Summer Hydration: Kids Edition
It's full blown summer and it is hot out there! I don't know about you but I typically like to spend my summer days out by the pool or soaking up the sun on the beach. Well, like most things this year summer isn't quite the same. While we do still get out and swim and such we now have our baseball season in the mid Florida summer heat and it can get hot!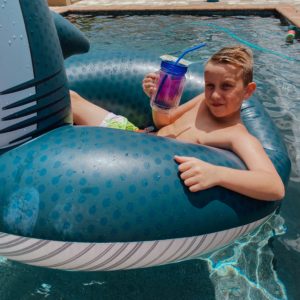 One of our favorite go to drinks is one that's not only refreshing but replenishes the body.
That's right! Vitamin Water is our go to. We also enjoy other sports drinks as well but for taste these are our (my) favorite.
Because I'm not a huge fan of ice I discovered over the years that freezing my favorite waters and juices eliminated unnecessary watered down effect that ice can cause and you can mix up your flavors. So it's a win win!
I've also learned that if I stick to the zero sugar drinks you can skip all of the extra sugars and still enjoy a refreshing drink. Today's mix is the pictured Cool Blueberry Lavender & their Vitamin C zero sugar. Now let's make it! This is probably going to be the easiest drink to prepare. The night before I know we are going up to the ball field I take out either ice trays or I like to use my reusable portion containers because they make bigger cubes that last longer and I fill them up with the Vitamin Water. By morning they are all set and good to go! Depending how on what you like you can mix just about any flavor together for a delicious drink while keeping yourself and kids hydrated on a hot summer day. Not a fan of Vitamin Water? You can also do this with sports drinks, lemonades, juices and other non carbonated drinks. It's great for holiday themed drinks, parties or just a festive and refreshing drink for hot summer days.
Now head over to these accounts and check out their summer drinks they have!