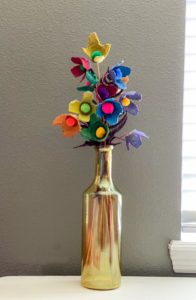 Do you ever see a package or a box of some sort and think, "I really need to hold on to this" because you know it has more to it then it was being used for? Maybe it's just me and I'll be honest, I am that person with one of everything. So when my local farmers market switched to paper egg cartons I started to stash a few for when we had some time for crafting. It just so happens that this past weekend I found some time for the girls and I to do a little panting and tada! I present you with our paper egg carton flowers.
When I first started saving the cartons I really wasn't sure what I wanted to use them for, so I did what most of us do and set out searching on pinterest. You'd be surprised of all the fun crafts that egg cartons can bring you. However, I knew there was just something else I wanted to do. After a few days of searching and finding things I kind of liked I decided to try something new. I grabbed a few supply's I had on hand and set out to prep and paint with the girls.
Prepping and Painting the Egg Carton
First thing you're going to want to do is get your flowers ready. You simply take your cartons and row by row cut each piece into their own. I did find that I had to use some heavy duty scissors so make sure you have a pair on hand to make things easier. You'll also find that your carton will vary on pedals that you can make. I had two different kinds and with one I was able to make 3 and the other allowed me to make 4. When forming your pedals be sure to cut almost down to the bottom. This is what is going to give you the availability to open your flowers to look as if they are in bloom. Once you have those cut you are ready to go.
A few years ago I started to use a cake pop tray for our paint and i'll tell you what, it has been the best paint tray! Not only can you add multiple colors at once but the dips help from getting the colors mixed and it keeps them in one place. In the past there had been many times that the boys would somehow push the paint completely off the plate or whatever I had put it on only to turn our entire area into one big canvas, so when Emily started to paint I was pretty proud of that fun mom hack.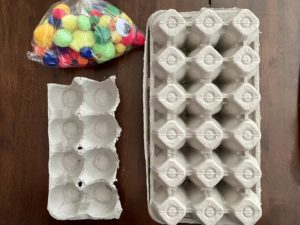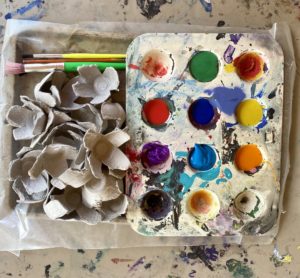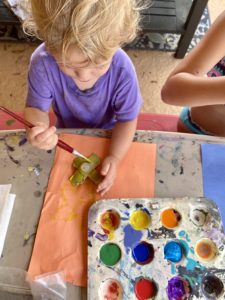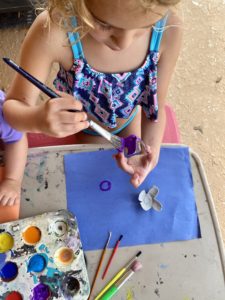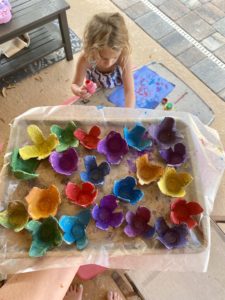 Once you have painted your flowers let them dry for about two hours. From here you can turn your flowers into whatever you like! For myself I was looking to make a bouquet that could display on the hall table. There are a few ways that you can make your stems. One, head outdoors and find some fun branches that may be laying around. Two, pick up a variety of sizes from the dollar store- you'll just need to take off the flower provided because you only need the stem. Or three, if you're like me and have random things laying around you can find some sort of sticks to use. I had found in my garage one of those dried out or maybe not really at all? bouquets that you would normally put in a vase that stand about 2-3 feet tall. I simply cut them to the size that I wanted and it worked out great. When adding your flower to the stem you'll want to make a small thumbnail size hole and push the flower just in enough to that the stick barley shows a bump. After that you'll glue in pompoms of your choice and let it dry for few hours. Had I had glue for my hot glue gun the drying process would have gone much faster, but I only had glue sticks available. Once it's dry you are ready to display your DIY Egg Carton Flowers.