When your birthday lands on a Sunday, and you want to have an ice cream part- you have a Sundae Funday Party!
When my daughter told me she wanted to have an ice cream party for her 9th birthday AND it was planned (and on!) a Sunday it was a no brainer that Sundae Funday was the winner.
Like usual I went to Pinterest to put together what I consider to be the best Sundae party.
Main Sundae Table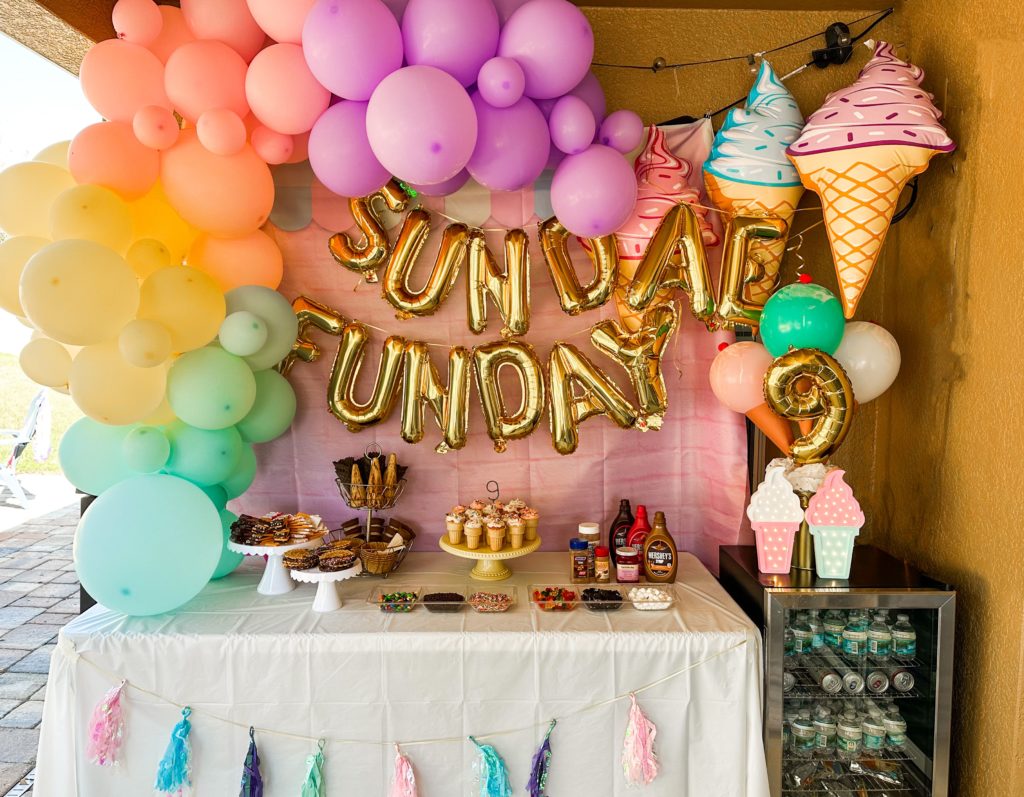 When planning her party I had just about two months so I was able to collect a few items over time. Luckily for you I will link all that I can here for you.
Sundae Funday Purchased items
I have most of what I purchased linked here. While I couldn't find a few I will let you know where I got it in hopes of finding it yourself!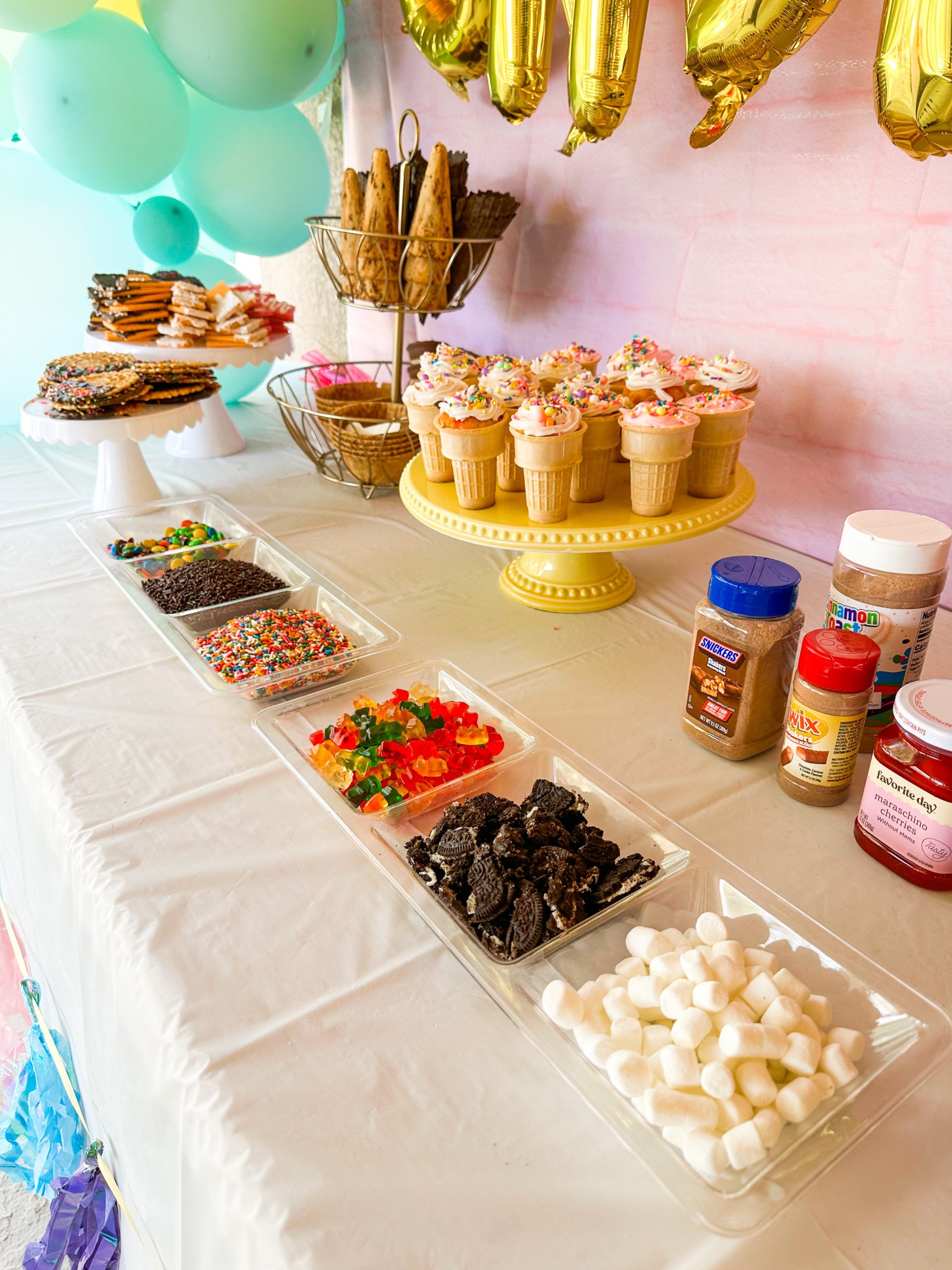 The white stands are something I grabbed when I was at Target right before her birthday. They were on clearance so I am not able to find them online but I did link one similar.
The yellow is one of my favorite! That was a Marshall's clearance find. I scored that for only $9! I found in it January so I'm not sure if there would be an others like it.
The clear trays are a Dollar Tree win! I have had them for about 5 years and I've used them for everything from crafts to parties to home picnics. I have only found them at the larger stores so if you don't see it make sure to look at bigger stores. They are in my "wedding" area.
The Gold tray is actually my kitchen fruit stand that I had seen on other party page that I loved the idea and it worked out perfect. It's from Target and has a full set for your kitchen needs!
When it comes to the ice cream balloons, back drop and Sundae Funday, those are all from Amazon and have been linked. You can't see the wooden spoons in this shot every well but those are also from amazon and were easy to use.
My favorite is the banner and the ice cream lights. The lights are from Amazon and are linked, the banner is from dollar tree that I picked up last year! I did see it the other day when I was in there so if you are looking for that color scheme make sure to check it out. For a $1.25 it was a win for me!
Sundae Funday Ice Cream and Waffle Goodies
WARNING! It gets messy lol. Emily had 13 girls over and when the ice cream came out they were all there! It went by so fast that it was hard to keep up with, however it was easy clean up so I didn't mind the aftermath.
There were so many different creations that it was fun on its own just seeing what everyone considered to be their favorite.
Here's what we had:
Waffle bowl
Chocolate waffle cone
Chocolate chip cookie cone
Chocolate dipped waffle cone
Strawberry, chocolate and vanilla chocolate dipped wafers
Chocolate, vanilla and strawberry pre scooped ice cream
Chocolate, strawberry, and caramel syrup
Whipped cream
Cherries
Rainbow and chocolate sprinkles
Marshmallows
Crushed Oreos
Crushed M&Ms
Gummy bears
Twix, Cinnamon crush and Snickers shaker toppings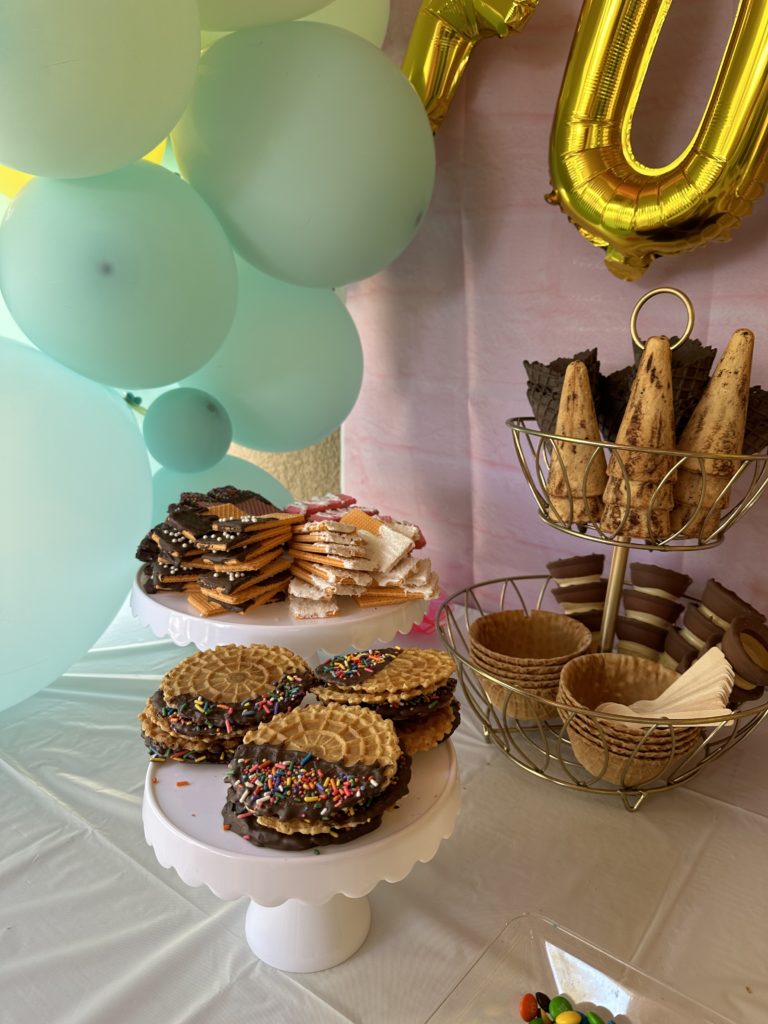 Cupcake Ice Cream Cones
One of my favorites for this party were the ice cream cone cupcakes! They turned out to cute and were so easy. The only thing I'd do differently would been to make 2 batches and fill them up as some didn't rise as high as I thought they would.
To make these work you simply put tinfoil over your muffin pan. next you will want to slice an x in the middle and then add your cones. I suggest almost filling the cones so that you can get a fuller look. However they still turned out super cute!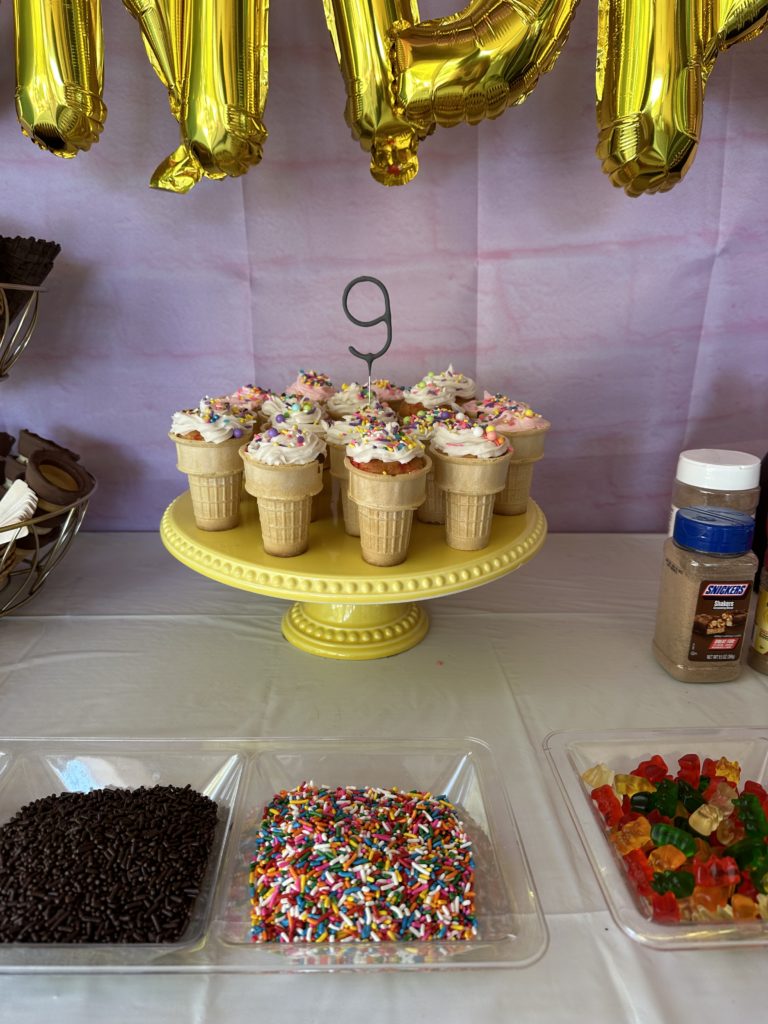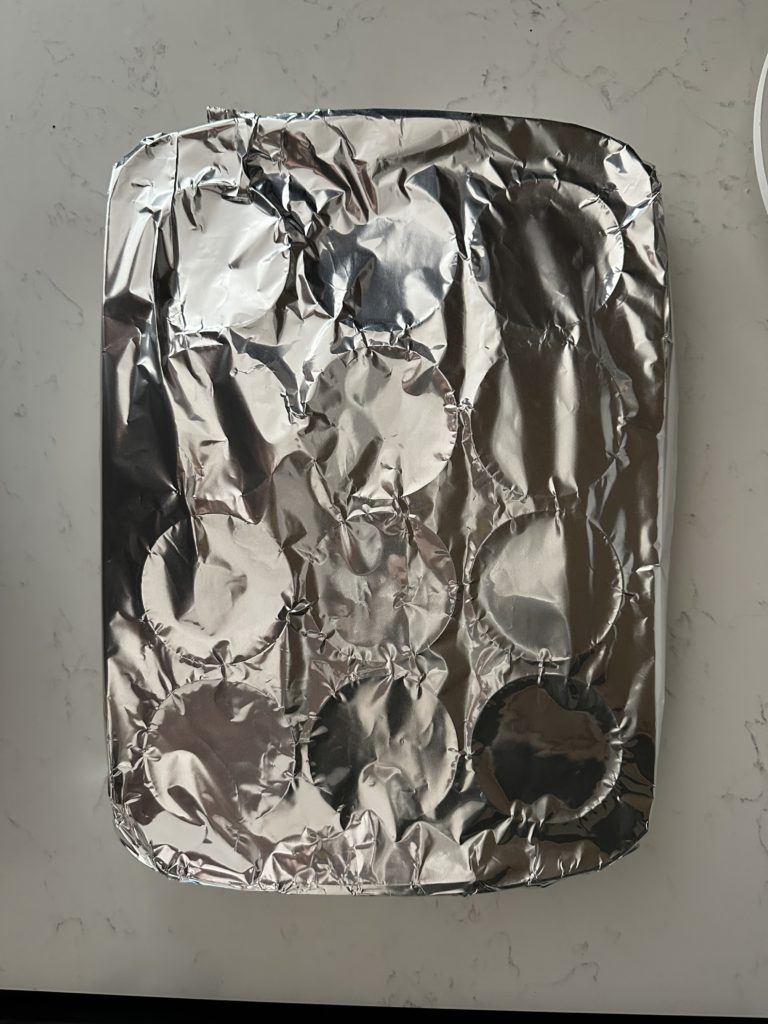 Home Decor
While I did keep most of the items in one spot I did add a few to the hall and outdoors. Here's what I did
Front Yard Ice Cream Balloons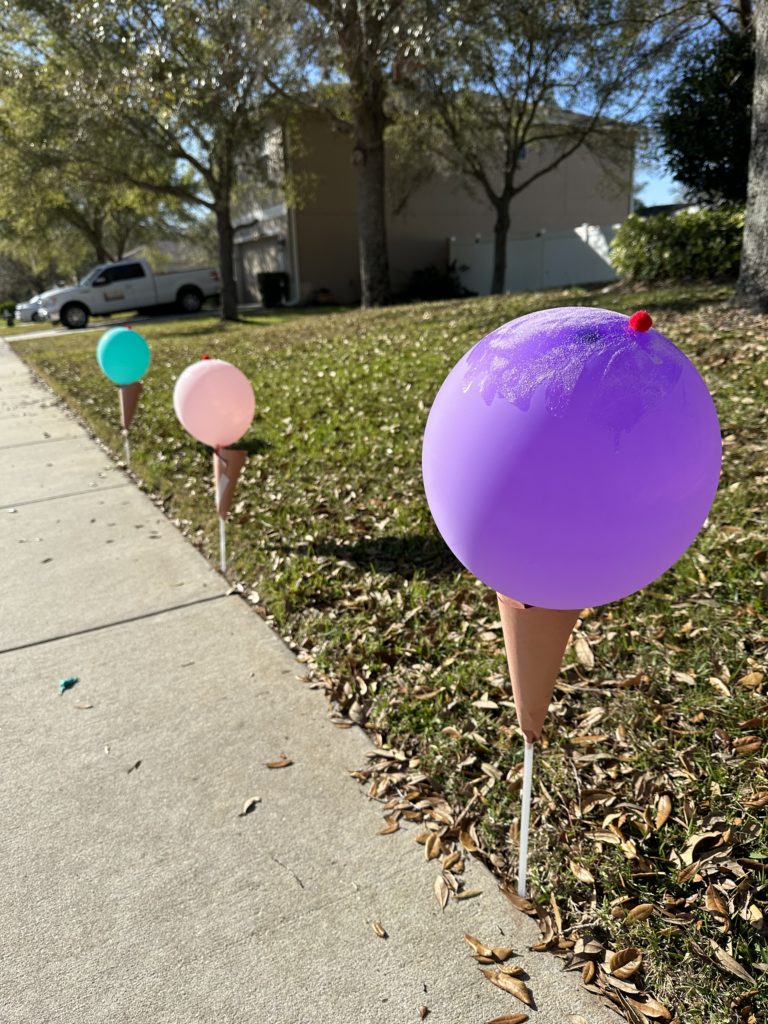 These didn't photograph as I would like but you get the idea. For the top I used puzzle save glue from the Dollar Tree and glitter and topped it off with a red Pom Pom. They are in the ground using the Dollar Tree balloon stands. The cones are brown paper wrapped in a cone shape and cut down to be even.
Hall Fan Ice Cream Cones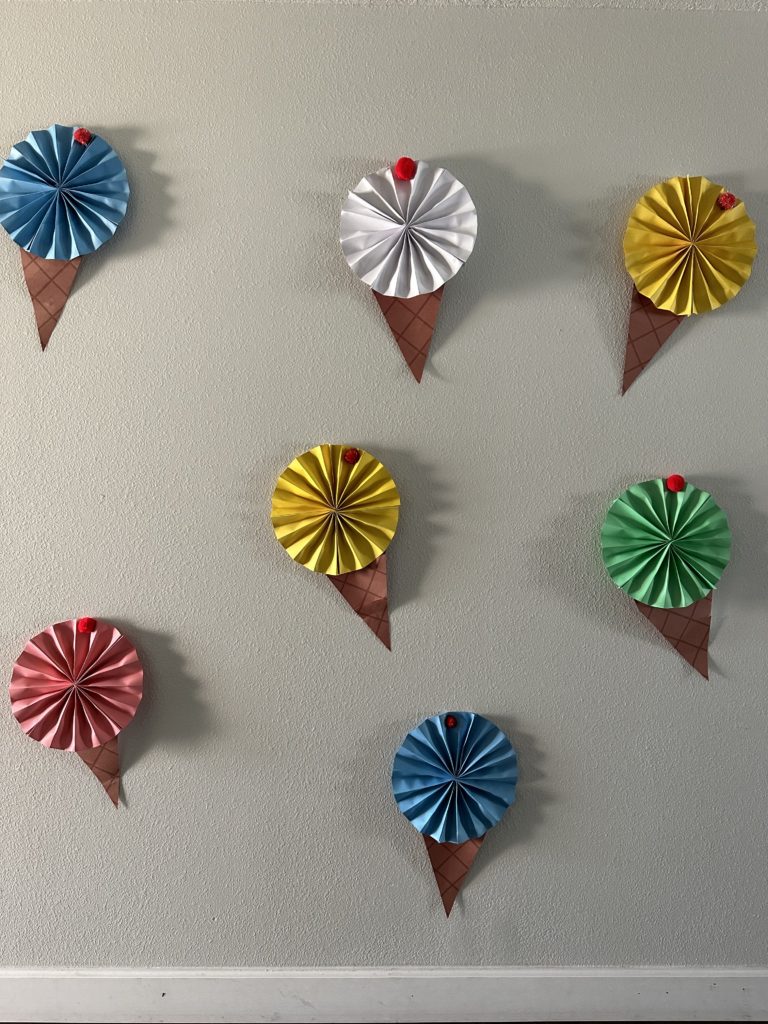 For these you just need card stock, hot glue gun and Pom Poms.
Morning Bedroom Surprise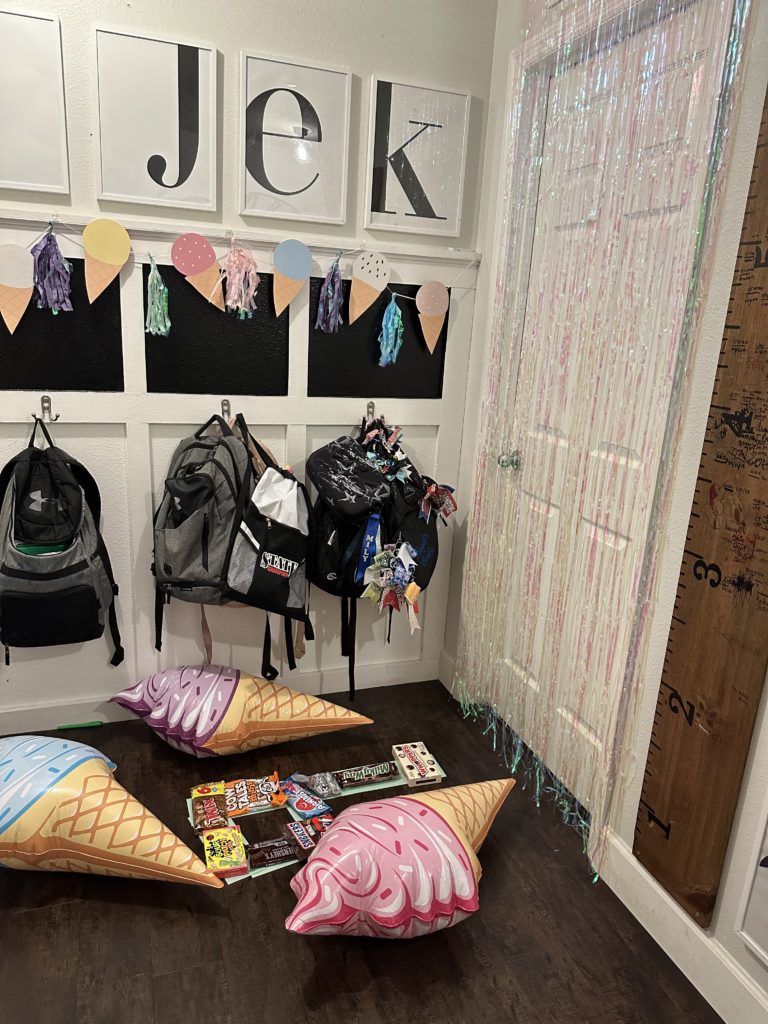 The door garland is another Dollar tree garland with printed cones. You can download these here.
I repurpose most for the actual party so it was a win win!
That's it!
Thank you so much for stopping by and let me know if you have any questions about our Sundae Funday Party!