Summer Lovin
Its a blog train! Make sure you check out the gals at the end of my blog to see what summer recipes that they have.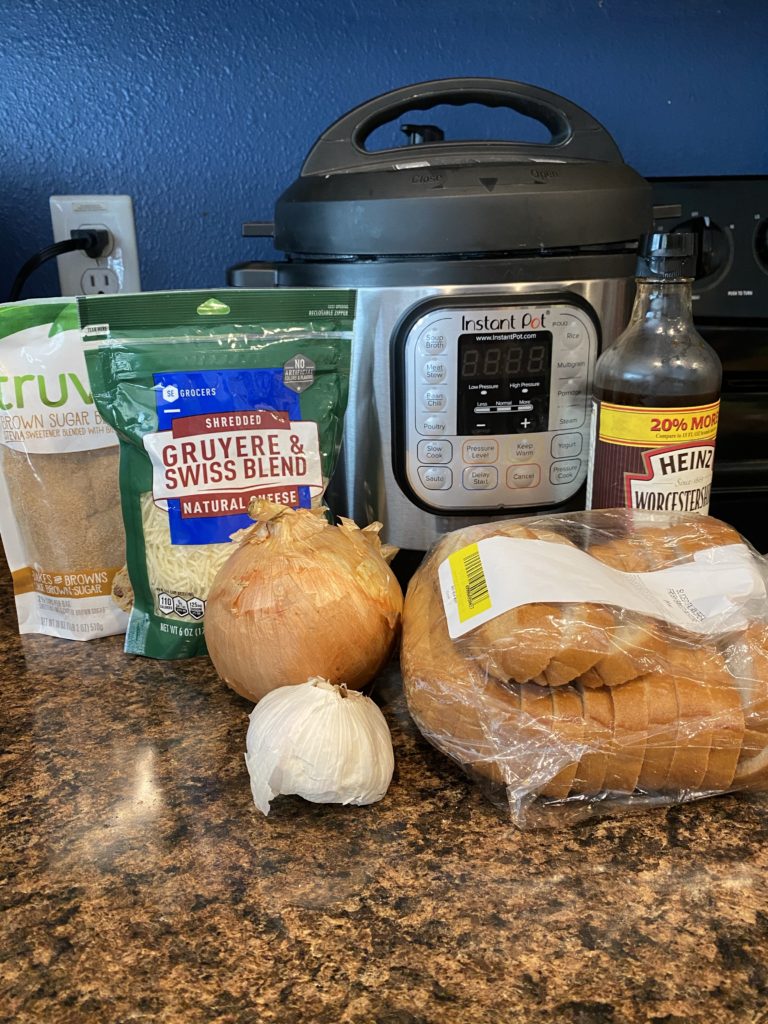 So we're in full blown summer and you've found yourself craving a delicious soup. You might be wondering, what is a good summer soup? For me, I eat soup year long! I love it, I love every soup out there but I am particular for what I like to eat for each season. I believe that a summer soup should be more on the lighter side while my winter soups typically tend to be hearty. So today I am going to share with you an easy Classic French Onion Soup that you can enjoy all summer long!
Here's what you will need:
knife and cutting board
mixing spoon
instant pot
measuring cups
oven safe soup bowls
Ingredient List:
1 large sweet onion thinly sliced
4 Garlic Cloves
1 cup of shredded swiss cheese
1/4 cup brown sugar
1/4 cup worcestershire sauce
1/2 loaf of partially stale bread- you want it to be crispy. Walmart has the best $1 loafs that you can use the same day!
1 tsp of salt
1/4 tsp of pepper
1 tsp thyme
2 tbsp butter
1 cup of red wine
7 cups of beef broth
Lets get started! I have great news, this is one of the easiest soups you will ever make and its going to be one of the most delicious – trust me.
Step 1- Meal Prep
When slicing your onions you are going to want to make sure they are sliced thin. I start by cutting it in half and slice from there. If you dice them down you won't get the traditional french onion soup feel so avoid cutting them down less than half an onion.
Sauté
Once you get your onions and prepped head over to your instant pot and turn the setting to sauté. It will only take a few minutes to warm up. Once it is hot you will add your butter. Wait for it to melt and add you onions and garlic. You will want to constantly stir to avoid burning so don't go to far! Sauté util they become translucent – this will take about 15-20 minutes.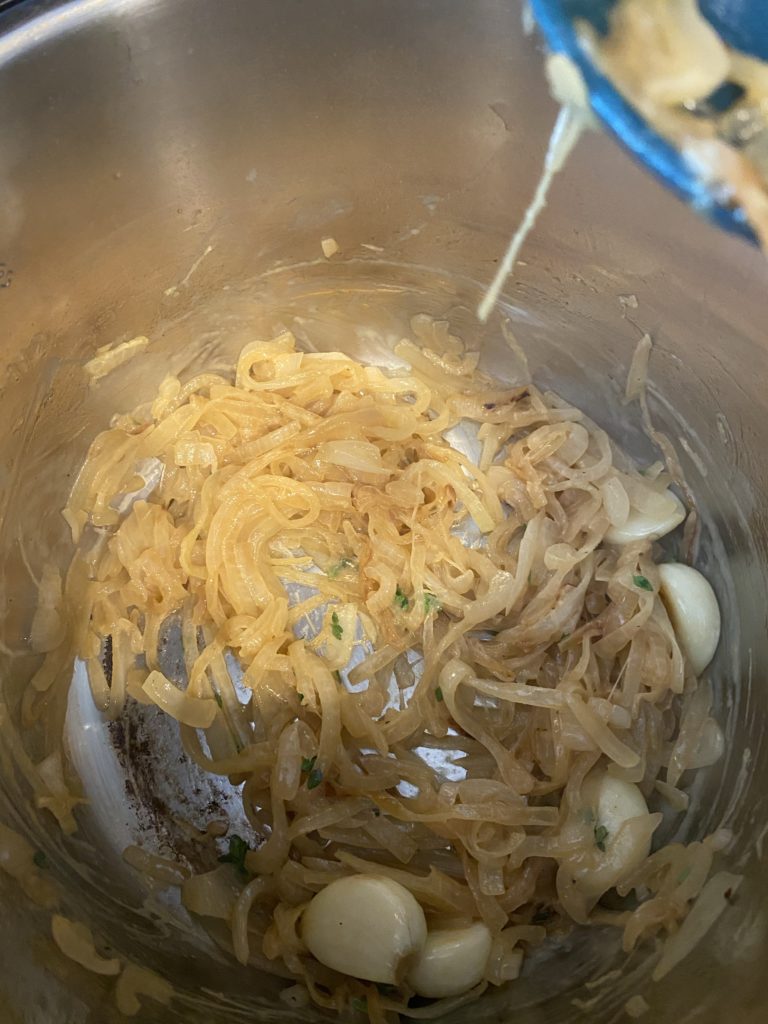 Now you are going to want to add your seasonings, brown sugar, worcestershire and wine. There is a good chance your automatic 30 minute sauté will shut off. All that you will need to do it turn it off and on to reset the timing. Here you will cook down the added ingredients stirring constantly to avoid burning, that instant pot gets hot! Cook for 4-8 minutes until the sugar is dissolved and all ingredients are mixed well and turn off the instant pot.
Pressure Cook / Oven Bake
Next you will need to add the broth and set the pressure cooker to cook 20 minutes on high pressure. While you wait for the soup to cook head over to your bread and start prepping. This is pretty simple, tear into small pieces. You don't need to measure but you aim to make them around 1 inch. Set your oven to 400 and wait for the soup to finish. Once the soup is done you will add 1 cup to your oven safe bowl add 5-8 pieces of bread and top with cheese. Now I am a cheese LOVER! So I 100% add to much, but you know what- thats what makes it for me. You will want to add at least a layer covering the top, if you are like me I layered mine to be just about half an inch of cheese or so.
Place your bowl on a cookie sheet and bake until the cheese is melted. Let it cool down for an enjoy! Caution!! The bowl will be VERY hot. Use an oven mitt and place it on a small plate when serving. This recipe will make around 4 services.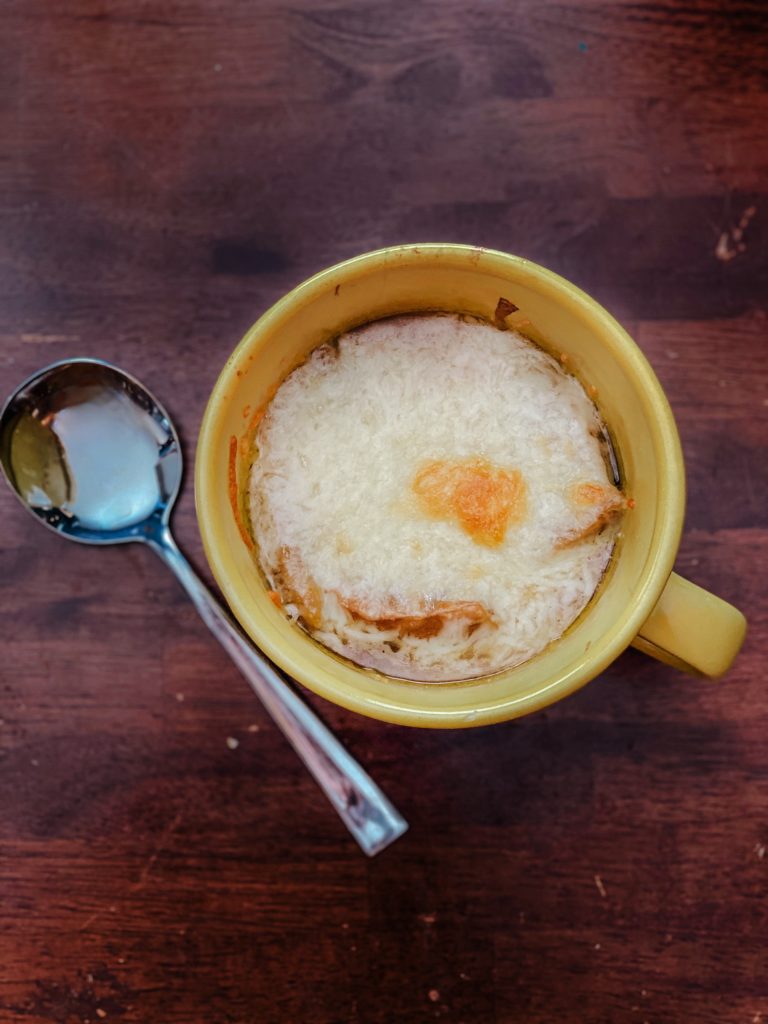 Now head over to these gals pages to see what summer recipes that have! Click on their photo to head to their blog or check out their Instagram page.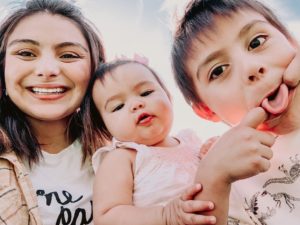 ^^^ Doris

Kayla >>
Instagram.com/Kaysdailyinsight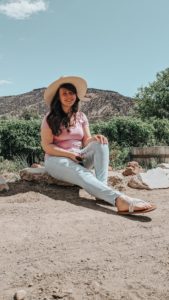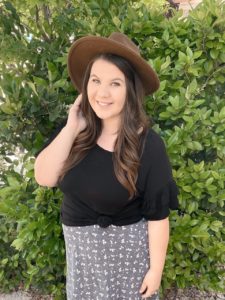 ^^ Katelyn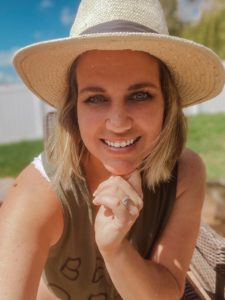 <<< Danielle
Instagram.com/mamallama.llama
30 minutes or less blogger blog round up blog train Butterfly party christmas cooking craft crafting cricut dessert DIY Dollar tree fall family family fun family time family vaction florida freebie free printable gift gift guide gifts grandmas cooking Halloween home decor homemade keto Kids Crafts lifestyle low carb motherhood Orlando printables project quarantine recipes school spring staycation summer teacher gifts valentines yarn